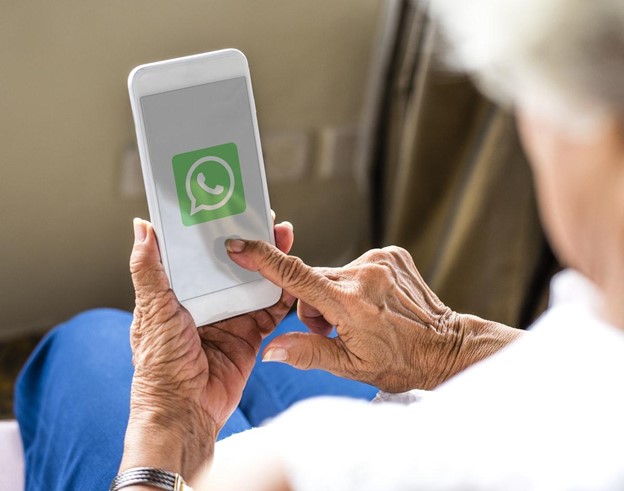 Image Via Rawpixel
By Teresa Greenhill of MentalHealthForSeniors.com
As your parents grow older, all you want is to make their lives easier. But when you live miles away, it's hard to know how. You can't help your aging mom carry groceries up the stairs or your dad shovel snow. However, that doesn't mean you can't make a difference in your parents' lives, thanks to a few good tech tools and services. These tips from Concord Friends of the Aging can help long-distance caregivers support their senior loved ones from afar.
1. Call Them Regularly
The thing your parents want most might also be what's best for their health. Seniors with strong support networks age in better health than seniors who are socially isolated. You may live too far away to stop in for lunch, but you can schedule regular conversations to hear first-hand how your parents are faring.
If your parents have experienced hearing loss, you'll want to make sure they have a phone and any other necessary equipment that will enable them to communicate with you more easily. Easy-to-use smartphones with video chatting features, large touchscreens, and the ability to connect to digital assistants are ideal options for seniors of all ages and hearing abilities.
2. Install Home Security
Home security is a good idea for all homeowners. Fortunately, thanks to modern technology, you don't have to buy a complete all-in-one system. Instead, you can purchase devices piecemeal, making it a much better fit for your budget. For example, devices like exterior cameras and doorbell cameras allow you to remotely monitor your loved one's property. You can also purchase "panic buttons" that tie into the home's alarms, allowing your loved one to trigger the security system if they feel they are in immediate danger. Lastly, installing a home security system (or making other important upgrades or repairs) could add value to the property should your loved ones decide it's time to sell the home.
3. Help Them Automate Their Bills
Are your parents still mailing checks to pay bills? While many seniors stay sharp well into their old age, cognitive decline can turn paying the bills into a frustrating experience. Make it easy on them and reduce the risk of unpaid bills by setting up automatic bill pay for household utilities, debt payments, taxes, and other routine expenses.
4. Hire a Home Companion
When it comes to assisted living, most seniors prefer to stay away. However, many of the same seniors who shun institutional living will gladly accept a helping hand when it's packaged differently. If your parents are healthy enough to live at home but you'd like them to have help, consider hiring a non-medical home care provider instead. Non-medical care can assist with everyday tasks like cooking and grocery shopping, housekeeping, medication management, transportation, and companionship. Of course, if your loved one needs help with activities of daily living and other essential tasks, consider hiring as-needed private care.
5. Live Closer to Each Other
Living closer to your parents will truly make it easier to help them. This ensures you're not spending a ton of money on gas or airline tickets, and it will give you both peace of mind. Plus, if you have a fair amount of equity in your home, you can cash that out to put toward a new, smaller space, or you can even help your parents out with medical bills or other necessary expenses like home safety modifications. Investigate the local market before a visit. Once you learn relevant info like this, you can then follow up on prospective homes when you're in town.
Living closer to your aging loved ones can mean offering help, but it can also mean collaborating together on projects. Think about things you used to do together when you were young, like gardening, caring for pets, or making crafts, and see if you can take those things up together now. In fact, you could even start a small business together to keep your loved one focused on a goal and to bring in some additional income. You may find that it brings you together in new ways to have a shared project, and it could liven up your parents' days to have something of their own to develop.
If moving isn't a viable option, encourage your parents to try reconnecting with former classmates. An online directory makes it easy for them to look up old friends they may have lost touch with. They'll appreciate the company!
When It's Time for Help
A time may come when you can no longer offer enough help for your aging parents. Whether that's from afar or even close by. If one or both of your parents become too limited in their ability to live alone, a discussion about long-term care should be broached. This ensures their safety and gives you both peace of mind. Both assisted living and skilled care come with their fair share of stigma for older adults, so be patient and mindful when having this discussion. Make a point to tour local communities together so they can get a sense of what's available, and how the right place can meet their needs now and in the future.
As a long-distance caregiver, you can't be there to offer your parents hands-on help. However, you can hire people who can. Get your parents the local help they need and do what you can to help from a distance. And when you feel it's time to be closer, look into relocating. The goal is to keep your parents safe, so work with them to create the best possible solution for you all.
For support services and programs in The Concord Senior Community, visit Concord Friends of the Aging today!