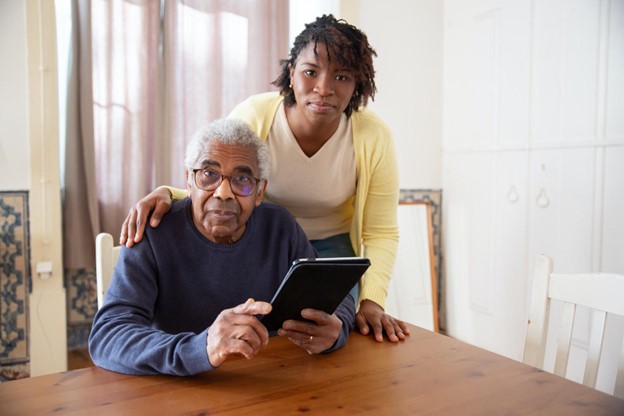 By Andrea Needham
eldersday.org
It's never easy to accept that an elderly loved one can no longer take care of themselves. Naturally, you feel a strong sense of responsibility to help. Often, though, you're not sure where to begin. That's why Concord Friends of the Aging is here to outline the following critical steps to make the process a little easier.
1. Start Managing Their Finances
Start collecting their bills so you can ensure that utilities and other important accounts remain current. Speak to a lawyer about power of attorney privileges so you can manage their bank accounts. You'll relieve a great deal of stress from your loved one if you can handle this part of their lives as it gets more confusing.
Gather all their financial documents when you take over as power of attorney. You need to understand the entirety of the financial situation to help with estate planning. Get family members to help you if it gets too overwhelming.
2. Teach Them About Scams
If you cannot be present all the time, you'll want to teach your loved one about scams. Seniors are a primary target for scammers because many have not invested much time in learning about technology. Explain the phone calls, texts, and emails they should ignore, and specifically reference that they should never click on any links or provide any personal information.
3. Reach Out to Other Family Members
Let other members of the family know what is going on so they can help. Being a caregiver is incredibly demanding and can be emotionally draining. You will need the help so that you can take proper care of yourself as well.
4. Help Them Eliminate Baggage
If your loved one is a business owner, they may need help selling the company. If they struggle to maintain the demands of daily business operations, it is likely time to sell. Get a professional valuation first so you know how much to ask for before putting it on the market. A proper valuation should include all assets under the business name, including any inventory and property.
5. Hire Home Care Services
Sometimes the best option is to get professional assistance. You can hire a company that offers in-home care services as an alternative to assisted living. Leaving your forever home is scary for seniors. You can keep them at home but still have all the help they need to carry out daily tasks. Many in-home care services companies help take seniors out of the home during the day for exercise, shopping, and other activities. The overall goal is to make them feel as though they live an independent life with a friendly companion. Be sure to read reviews and evaluate your loved one's needs before you hire someone.
6. Start Downsizing
Downsizing can help relieve many burdens. Seniors living in a large home may not be able to handle the upkeep. You can help them sell or donate what they don't need. Research shows that a fresh start is often a great mental health booster for seniors.
Downsizing can also be helpful if your loved ones need money. Selling their home and moving into more modest accommodations can simplify many issues. Be sure to investigate local market conditions before helping with a sale. Online resources can give you an idea of whether or not it's a good time to sell as well as providing information about how much to expect from the sale.
Now that you know a few steps you can take to help your loved one, you're on the right track to giving them a good quality of life. Remember that there will be hard times. However, if you take the time to take care of yourself, you'll be a better caregiver as well.
Concord Friends of the Aging is a private non-profit corporation supporting programs and services for the Concord senior community. Please scroll down to sign up for our newsletter!